Whilst I was in the USA doing the Pacific Coast Highway in a 5.0L V8 Mustang Convertible, I thought it was long overdue for Blue Rex to have some care and attention, so it was off to Larry at PDQ to give it a good fettle and its MoT.
And it really was a good fettle: the old Datatool alarm was finally consigned to the bin, as was the battery. The carbs were basically overhauled and a couple of pipes and o-rings were replaced. There was a new chain and sprocket set. There was a new set of tyres to replace those that were on there that were many years old and had all the grip of Donald Trump.
It was then MoT'd and it passed with a mileage of 19,462 which was 40 miles up from last year's and was basically the mileage out of London to PDQ.
Whilst at PDQ, Larry whacked it on the dyno to see how it measured up, some 11 years after the team at PDQ had breathed on it. 154.89bhp at 10,100rpm (158.37bhp) and 90.5lb/ft of torque at 7,830rpm (91.5lb/ft), 2011 figures in brackets.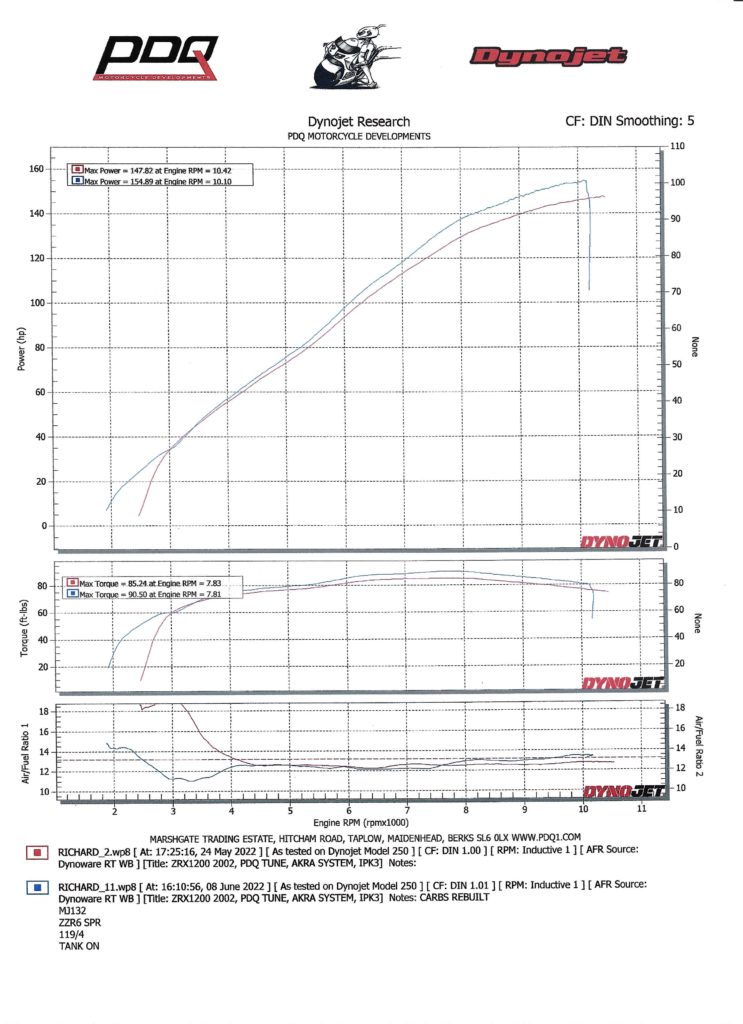 It's a new dyno – so not necessarily a true like-for-like comparison – but it's still close to what it was putting out before, which is pleasing.
Larry was also kind enough to grab a socket and a screwdriver to swap out my Pazzo Racing clutch lever for a shorty one when I collected it.  A previous problem with trapping the gloves over my non-existent fingers when pulling in the clutch…
I used my disabled person's Freedom Pass to get there, so it cost me nothing and the ride back was lovely: back in a little over an hour (with a fuel stop) thanks to filtering and people working from home.