When Kawasaki launched the ZRX1200R they wrote:
Today they call it World Superbike, but back when the whole show got started it was the bikini-faired Green Monsters from Kawasaki that power-slid their way into the record books. Now Kawasaki flexes its performance muscle once again, bringing you the direct descendent of those tarmac-rippling Superbikes – the new ZRXÂ 1200R.

Retaining the brutal charm of the original Eddie Lawson bikini-faired layout, but with a new engine pumping out, amazingly, even more power and torque. A stiffer swingarm with revised pivot location for superb handling. And further buffing up the most legendary Musclebike of all are plenty of other mods. Like an improved clutch and a rear wheel damper from the awesome Ninja ZX-12R, for smoother shifting and improved ride quality. All adding up to more take-no-prisoners ZRX performance than ever. Beyond formidable, the new ZRXÂ 1200R. Stamp your authority on the game.
SuperBike's July 2006 issue's listing says:
Looks and rides like it's graduated from the school of bad-ass attitude. Best-handling muscle bike and arguably the most stylish, but you'll probably wish that you'd bought a Z1000 when the going gets a bit twisty.
So, who's right? Here's an owner's 'take' on the Kawasaki ZRX1200R.
Engine & Performance
Kawasaki claim 122PS and 112Nm of torque for the ZRX. In English that's 120BHP and 82½ ft/lb, almost certainly measured at the crank. Dry weight is 223kg (plus 4kg for the half-faired S version). Compare that with a Suzuki GSX-R1000 (161BHP at the rear wheel and 166kg) and it's clear that the ZRX is no pocket rocket.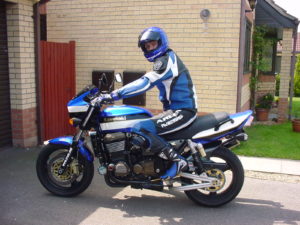 Looking at the bike in the showroom, it looks like it'll be a handful, but looks can be deceptive: whilst it may be a heavy old lump, it's smaller physically than it looks.
I'm 6′ tall or thereabouts and 14½ stones so this photo might give you some perspective.
As with most halfway decent bikes these days, 0-60 times are largely irrelevant: quicker than nearly anything four wheels – I'd guess at around 3½ seconds. Top speed? Who knows? I've seen 145mph on the clocks sitting up, but take a look at that riding position and the tiny fairing. How long would you want to be maxing it out on that? If top speed's your priority then look elsewhere: musclebikes, naked bikes and retros are not for you. The ZRX1200R's bikini fairing and upright riding position dictate a comfortable cruising speed of around 90mph where you can leave it in top gear and just cruise along riding on a wave of torque. With a redline at 10,000rpm, maximum power is delivered at around 8,500rpm and maximum torque at around 6,500rpm, so it can be a very relaxing ride rather than a frantic scream.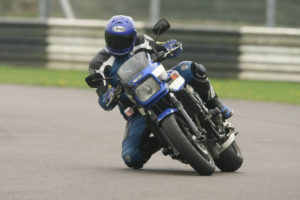 When you want to hustle, though, it picks up its skirt and rocks! I use the ZRX for trackdays and take onboard footage when I can. Take a look at this video, for instance, to see it in action on track at Mallory Park. Oh, and it'll wheelie on the throttle in first so it's no fat slag.
The ZRX1200R comes with two catalytic converters, one welded into the header pipe collectors and one in the silencer (which gets exceptionally hot – beware!). This, coupled with the Old Skool carbs and emissions gubbins, means that replacing the end can with a quality one or, better still, a full system will give you more than a few extra horses: with a Dynojet kit – no namby-pamby fuel injection here – freer-flowing air filter, the removal of the "snorkel" on the side of the air box and fitting a decent full system (Akrapovic is preferred), power rises from 112bhp to the low 130s at the rear wheel.
Chassis & Handling
As it comes from the factory, the bike is set up for a 75kg (~12½ stone) rider. Knowing the general size and weight of your average ZRX owner you can see why that might not be perfect.
Providing you're not going for it on poorly-surfaced B-roads, the standard settings are OK, if making the bike a tad wallowy. I've fiddled with the settings to improve things substantially but a session with Steve Jordan is on the cards at a Folly trackday to sort it properly, or as near properly as possible. It's suggested that the ZRX's weak point is the front end rather than the rear.
Talking of which, the ZRX comes with retro-style twin shocks at the rear, unlike the Honda CB1300 or Suzuki Bandit, but like Yamaha XJR1300 and Suzuki GSX1400. These are more than adequate as standard and the twin shock layout provides the additional benefit with the ZRX of a massive amount of underseat storage.
Styling & Ergonomics
If you're in the market for a musclebike, then this is to my mind the best looking one of the bunch. Harking back to the mighty GPZ range of the eighties (and yes, to the Eddie Lawson superbike years), the ZRX looks well 'ard just standing still.
A very handsome and imposing bike, the moment you sit on the ZRX you feel very much at home. The pegs place your legs in a very comfortable position and the reach to the bars is very neutral. The seat initially feels very plush, but after an hour or so, it does become uncomfortable. Many owners have theirs re-upholstered or replaced with Corbin and Sargent being the preferred options.
But it seems that the ZRX attracts the sort of owner who wants to 'improve' the looks: nearly all the members of the ZRX Owners Club have modified or accessorised their bikes in some way. For track use, I've replaced the footrests with Gilles rearsets for extra ground clearance. Clearly we want to make them our own.
In terms of my own 'improvements', my full list is as follows:
Akrapovic titanium full system; Canadian-spec. rear mudguard; Powerbronze carbon-look hugger; Powerbronze crash posts; Clear Alternatives indicator covers; Clear Alternatives rear light with LEDs; Small numberplate (supposedly Gatso-proof); Datatool Evo alarm system and pager; Bridgestone BT012SS tyres; EBC HH brake pads (fronts); Gilles rearsets; Talon 44T Rear Sprocket; Sargent Solo seat; BSR-Aerotek braided hoses; Wyn's Muffler Bracket; Cheapo sports watch fitted over clutch reservoir; Braking wave front discs; and RC51Rider's Radiator shroud replacement straps.
There are more to come including a black powder-coated swingarm and maybe some Braking forged aluminium wheels.
The Final Analysis
When I was looking for a new bike, I considered buying various sportsbikes but at the time I still owned one, albeit an older Yamaha FZR1000 Genesis. I simply wasn't using it much as it wasn't the sort of bike I could just jump on and wazz down to the shops on. It wasn't even much fun under 100mph which, whilst fine for trackdays, isn't so good for everyday use.
What appealed to me was that the ZRX1200R reminded me of the bikes of my early riding years but without being too retro, i.e. it took the best of the early eighties musclebikes and brought it more up to date without discarding all the facets I liked.
It's comfortable around town, is great for pillions, can trackday with the best of them and best of all always leaves me feeling great after a ride out.
It's also very crashable: I dumped it up to the hairpin at Mallory and the bikini fairing was worn through a bit. The bike was still rideable as it was, but my riding kit had taken a hammering so I couldn't continue. I'm still using the broken bodywork for trackdays just in case.
So the Kawasaki ZRX1200R is a great bike. Should you go out and buy one? Well if you do want to, you'd better make it quick. Kawasaki have stopped selling them in the USA already and I'm surprised they're still available in the UK, though I doubt they will be for much longer. I'm told that Kawasaki only managed to sell 150 ZRXes in 2005 but then that's probably because they're some sort of best kept secret.